Back to overview
15.11.2022
HS Orka and Sæbýli sign a Letter of Intent to farm abalone in the Resource Park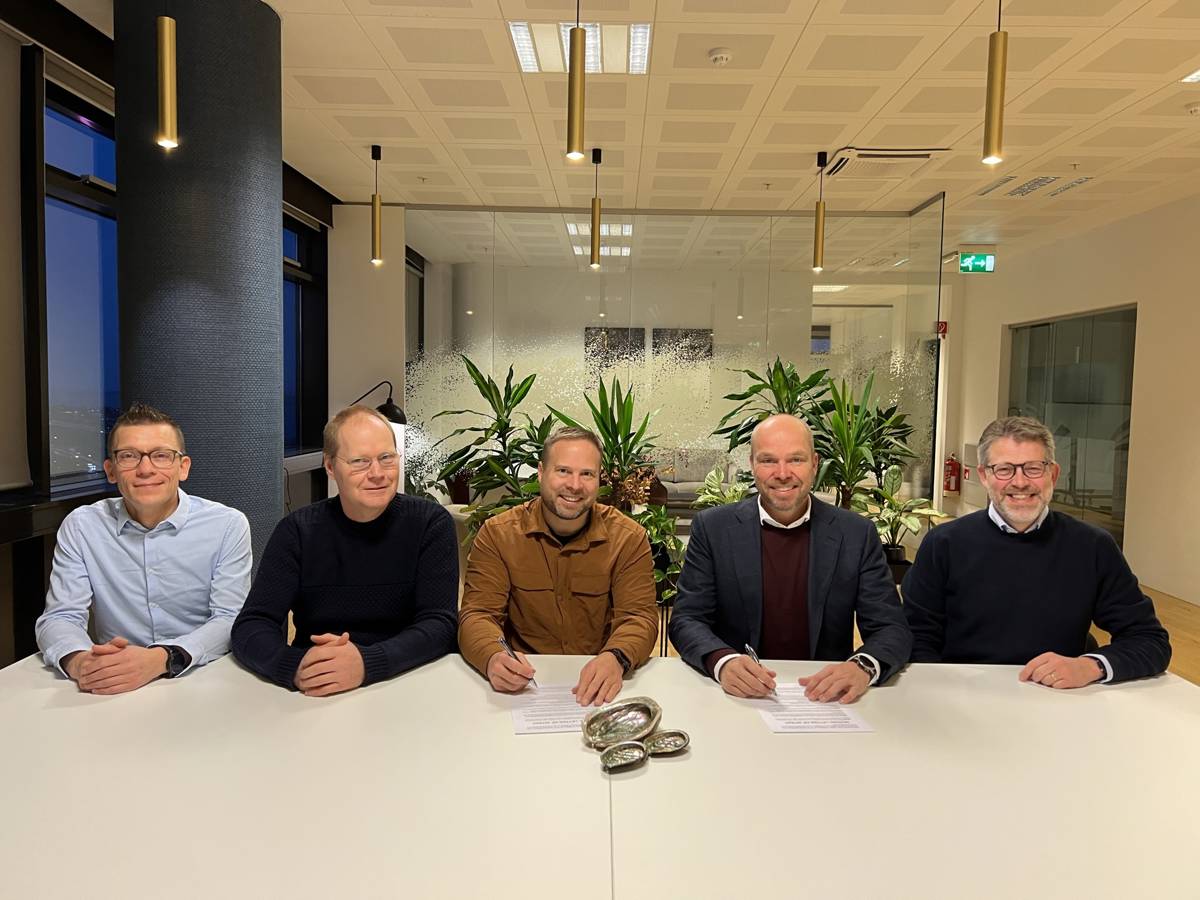 HS Orka and Sæbýli have signed a Letter of Intent to farm abalone in HS Orka's Resource Park.
During this year, Sæbýli has built up a juvenile facility in Grindavík that utilizes green geothermal energy from HS Orka's power plant in Svartsengi for its warm water aquaculture farm.
Sæbýli is an aquaculture farming company that has in the past 15 years developed their own hatchery, technology and production methods to farm abalone in Iceland. They have a revolutionary state-of-the-art farming technology (SustainCycleTM) that is a vertical bluehouse with RAS system. This is a game changer in vertical farming of abalone in terms of animal welfare, consistency, abalone quality and carbon footprint. Abalone is one of the most valuable farming species in the world and with the availability of unique resources in Iceland it is possible to farm warm water species in Iceland.
The company has operated a hatchery in Grindavík to cultivate juveniles but has plans to build their ongrowing facility in the Resource Park in Reykjanes and utilize the green energy and thermal energy for the production. Sæbýli plans to build up a 200-tonne farm for the first phase that has the possibility to expand fivefold in the next 10 years. The abalone stock originates from Japan where this shellfish is in high demand and Sæbýli intends to export the product for foreign markets.
Sigurður Pétursson, President of the board of Sæbýli:
"The unique natural resources in Iceland such as geothermal energy, lava filtered sea water and green energy enables Sæbýli in collaboration with HS Orka to develop an environmentally friendly shellfish farming project. Both parties emphasize on sustainability and circular economy and therefore Sæbýli is delighted to reach this phase in the development of our company."
Ásgeir Guðnason, founder and CEO of Sæbýli:
"People wonder if it takes many years to develop new farming species and the simple answer is "Yes". The foundation is to build up a hatchery and we have reached that milestone by building up a hatchery and juvenile farm in Grindavík. This LoI with HS Orka moves us closer to the goal of building up a unique farm, farming the most valuable species in the world, here in Iceland"
Tómas Már Sigurðsson, CEO of HS Orka:
"We are very excited to collaborate with Sæbýli on this project. They have extensive knowledge and experience in developing viable aquaculture farms and we think this project is a great addon to the existing aquaculture companies in the Resource Park. The abalone farm fits well with the ethos of the Resource Park, utilizing green geothermal energy in the production. The abalone farm is a positive development since it could open up possibilities of building synergies between the existing aquaculture companies in the area."
About HS Orka
HS Orka has been a leader in the production of renewable energy for over 45 years. The company employs a group of experts with extensive experience in their field. HS Orka owns and operates two geothermal heat and power plants and one hydroelectric power plant with combined installed capacity of around 200 MWs.
Innovation and creative thinking have always been the basis of the company's activities and is the foundation of the Resource Park close to the capital area of Reykjavik, where various geothermal resource streams are utilized. Today, 11 diverse companies operate in The Resource Park, all of which make multiple use of the geothermal resource via direct connection to HS Orka's power plants.
About Sæbýli
Sæbýli was founded in 2007 and has from the beginning focused on developing high-value stock of abalone from Japan and California. At the same time, Sæbýli has worked on research of Icelandic algae as a feedstock and the utilization of geothermal energy to heat up ocean water along with developing its own farming technology, SustainCycle. In the past few years, we are seeing constant technological advancements in onshore aquaculture and we have been adapting our unique farming system to that, but the vertical farming system we use is similar to vertical farm as we have seen in vegetable farming than the traditional aquaculture farming. This year (2022), we have taken on significant investments and the build up of the juvenile farm in Grindavík is the foundation of the future developments, both in Grindavík and in Reykjanes.